BULLRUN 2007 - TEAM PROFILE - TEAM RIECKE
THE TEAM FROM NEW ORLEANS RUNS HARD AND MAKES BETS
Team Riecke came onto the Bullrun scene during Bullrun 2006 and its never been the same since. They hosted a Bullrun reunion party during SEMA in Las Vegas at the Playboy Club at The Palms. They threw a massive Bullrun Party during Mardi Gras in New Orleans and they always have a huge send-off a week before Bullrun.
Jay Riecke and Byron Burkhardt are what Bullrun is all about. They live and breath the action, the driving and partying. Although Byron navigates, he is an accomplished Porsche Club Racing Driver who hasn't had anything less than a podium finish in all his races. In addition, he's been given the "Safe Racer" honor by the Porsche Club Racing organization for flawless driving.
Word is, Byron will be driving full-scale in Bullrun 2008.
The Team Riecke car even wears a Bullrun on their licence plate.
Their vehicle is a Super-tuned Renntech Mercedes CL 600. 12 cylinders of German precesion. This thing is not even close to being stock. It's fast as hell, but low profile at the same time. It's really smooth, even at higher speeds.
During a drive, they are all business. Jay is a truly safe, but effective driver. Byron is a multi-tasking maniac with his eyes and ears wide open and the virtual communications hub for all info coming in. Team Riecke employs a logistics team back in New Orleans that track their every move using a Global Positioning System.
(In action)
All Byron needs to do is give them an address and they guide them into every checkpoint with yardage countdowns and everything.
Byron (Left) Holding court with Bruce (Right).
They also have every piece of electronics possible in the car, even stuff we didn't cover in the video below. Check it out, it says and shows it all...
Despite the electronics, they still got stopped by a trooper in Rhode Island.
Here's a pic of their ATL fuel cell. We're talkin' 600-700 miles without a refuel. A virtual Lambo, Ferrari and Corvette killer.
The support vehicle was driven by Wayne and Jay's business associate and friend, Bruce. We called these guys Batman during the rally because Bruce & Wayne turned into Bruce Wayne, which eventually became Batman. Although, Wayne looked more like a Batman Villian with his cool specs.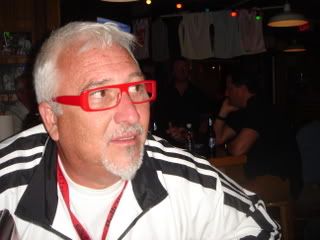 They drove the Brabus GL 450. Jay calls it the fastest Soccer Mom SUV in the South.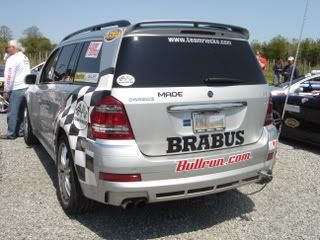 THE BET


We all know that Jay bet Rawlings and Collins $50,000 that they couldn't break the Coast-to-Coast record and lost. But there is a part 2 to the whole thing. The bet was 2 pronged. Rawlings and Collins were to come back to Bullrun and beat Team Riecke to Key West from wherever they met back up.
Both Teams decided that it was best to leave the bet at the World Record and they renegotiated down to $25,000. The negotiation ended off at Team Riecke telling Rawlings and Collins how they were going to beat them from Miami to Key West which was supposed to be the point where the Texas boys wereto meet back up with the Rally.
See, that's how Jay is. He knew that he could have won the last leg, but he felt like a world record was worth something and he was extremely happy to be a part of history.
So Jay let them in on their plan and they in fact beat every team down to Key West. Knowing full well that there is only one real way to go. Team Riecke hired 2 helecopters and 1 rather large cargo plane big enough to fly 2 cars from Miami to Key West.
Here are the cars getting loaded in.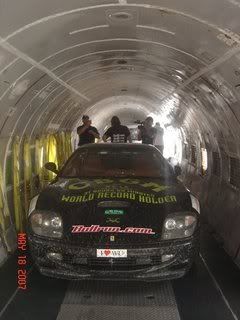 Oh, the helecopters were used to ensure that the teams could check in during the mid-day checkpoint. Both teams checked in, got back into the copters and met up with the cars to drive to the finish line in Key West. All within Bullrun specs for compleing a day.
There you have it. This is just one example of what lengths Bullrunners go to to have fun and have a story to tell during Bullrun 2020.
GO TEAM RIECKE!!!!!!!!!!!!!!!!!!!!!!!!!!!!!!!!!!!!!!!!!!
Trackbacks